Tourism sites in Turkey for history lovers!
September 13,2022

23 views
Turkey has been known as a famous destination for tourism thanks to its impressive landscapes and beautiful beaches. However, through a long history lasting hundreds of years, there are also a number of old buildings and places from ancient times for tourists to discover. If you are a fan of archaeology and would like to find out what our ancestors did as well as how their life took place in the old days, Turkey would be a nice site for you with various choices. In case you are planning a journey to the land but get stuck with the where-to-go list, let's read the following lines for some suggestions about tourism sites in Turkey!
Before coming to visit Tourism sites in Turkey. If you are a foreign citizen, you must apply for a Turkey E-Visa online and learn about the requirements for citizens of other country's visas to Turkey.
Anitkabir
Anitkabir is a renowned mausoleum that was built for Mustafa Kemal Ataturk, the first Turkish president who is also known as one of the best politicians in this country.
Having been constructed in 1944 by Emil Onat, this mausoleum was finally done in 1953 after nine years of hard work and efforts. Before this architecture, Ataturk's corpse was displayed in the National Museum. Then, it was moved to Anitkabir on the occasion of his 15th death anniversary.
People consider Anitkabir as a great symbol for architecture in the early 20th century. When visiting Anitkabir, you cannot get close to the grave of Ataturk as it is under heavy guard. However, you can see the tomb on the big screen which is connected with the camera.
The outer design is an open space from which you can see the big square below. Local citizens usually come here to pray in front of their president's tomb.
Inside this area is an avenue that is 30 meters in width. On the two sides, there are statues of a woman and three men symbolizing the changes in Turkey from the age of Ottoman to Ataturk's time. In addition, there are also different structures which come in various sizes for tourists to visit and have a look at.
On entering the building, you will see how amazing it is. The inner design combined with interior and decoration help to display the life of this old president when he was alive. Moreover, there are a lot of pictures of Ataturk working with his army hung around the room. Here, you also have a chance to look at Ataturk's clothes, keepsakes, interior items and his own library. The sound played in the room will give you a lively experience.
Ani
Situated amid a beautiful valley, Ani is an ideal destination for those who love to enjoy the beauty of nature and learn more about history. When setting your foot here, you can contemplate the attractive architecture built by ancient people.
Through numerous wars occurring during the long history, most of this construction was badly damaged. Nonetheless, the Turkish government has turned it into a well-known site for tourism so that people can have an opportunity to see and touch this historical building.
In the past, Ani was the land of more than 100.000 residents under the power of Rome and Turkish empire. At the time of Bagratid Armenia, this place became the most important cultural center of the area.
Different from other tourism sites which are noisy, crowded and green, Ani has its own peace with a wide sandbank covering the whole region. If you spend your vacation here, you can walk along to feel the winds blowing through mountains which are also the border between this country and Armenia.
Ishak Pasha
Ishak Pasha is the last palace of the Ottoman empire which is located on a rural hill in Eastern Turkey. The construction of Ishak Pasha took a lot of time and effort of generations in a family. In 1685, an architect called Kolak Abdi Pasha started building the structure. Then, when he passed away, it was his son and grandson who continued the work. After more than a century, it was finally done with such an amazing design that tourists can't stand contemplating.
Ishak Pasha is a combination of Amenian, Georgian and Ottoman architecture. On entering this palace, you cannot believe that people in the past could build such an outstanding construction without as many machines as we have today. Inside the building, there are lots of images which are carved sophisticatedly. Those sculptures lying next to each other forming high pillars to hold up the ceiling. In addition, the vault of Ishak Pasha was inspired by the Middle East style that is high above. Although the color gets lighter due to time and weather conditions, the palace still remains something antique of the old days.
Ishak Pasha is a cultural symbol of this country and it used to be printed on the 100 lira banknote from 2005 to 2009. Being abandoned following the fall of the Ottoman empire, this palace is an important historical place that is carefully preserved by the government. Therefore, once coming to Turkey, you should not skip this wonderful destination where you can learn a lot about history.
Kizkalesi
Kizkalesi is one of the most attractive historical places for travelers when going to Turkey. Situated on a part of the Mediterranean which belongs to Mersin province, this site has attracted thousands of tourists from around the world for its special location. Kizkalesi is surrounded by eight towers to prevent it from being attacked by the enemies. With impressive and durable construction, this building has protected the seaport for a long time.
Also known as the Castle of Young woman, Kizkalesi lies about 200 meters away from the southern shore of Turkey. Looking from a far distance, the building is like floating on the water surface. According to some documents and research of archeologists, the walls and some towers of the castles have existed since the beginning of the 12th century. At present, everything is still solid despite a long period of time and weather conditions.
Talking about Kizkalesi, there is an interesting story about it which can be considered as the reason for this construction. The tale says that a king of Byzantine had a very lovely daughter. One day, a psychic told him that his princess would be dead because of a snake. After listening to the bad prediction, the king then immediately commanded his soldiers to build a castle for the princess to live in. However, no matter how hard the king tried to protect his daughter, she was bitten by a snake hiding in her fruit basket. Everything happened exactly as the psychic had predicted before.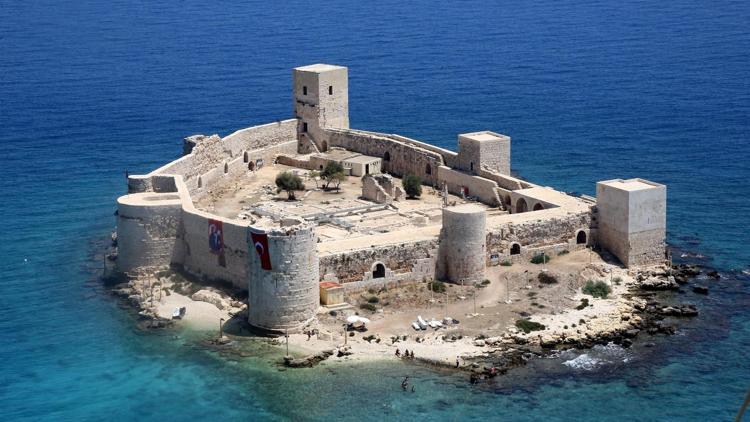 Turkey is definitely an ideal site for visitors who would like to get back to the past and discover the mysteries of every ancient building. By taking a tour here, you will gain a lot of knowledge that you may never be taught in the history lessons at school.
To help you to visit Tourism sites in Turkey quickly. We provide Turkey e-Visa service to save you time.
Leave your information in the registration form below.