Mind-blowing facts about Turkey You may not know!
September 13,2022

29 views
Turkey, a land where East meets West, is a treasure trove of captivating history, vibrant culture and a wealth of intriguing and stunning facts. From ancient civilizations to mouthwatering cuisine and stunning natural wonders, Turkey has something extraordinary for every traveler. Join us in the journey as we delve into the incredible tapestry of this mesmerizing country, and get ready to be amazed by its hidden gems and vibrant cultural traditions. Let's check it out!
Before coming to discover interesting facts about Turkey. If you are a foreign citizen, desperately wanting to veriyfy the facts on your own, you should gain some general information about how to apply for a Turkey E-Visa online as well as learn about the requirements for citizens of other country's visas to Turkey.
Grand Bazaar is one of the most ancient markets in the world
If you are tired of going shopping in noisy malls where famous brands try to sell their expensive items, you can take a tour around some markets while spending your holidays in Turkey. Among them, Grand Bazaar may be the most popular one with various kinds of goods sold at a low price. Each year, the number of visitors coming to this place for purchase keeps rising. However, not many of them know about the interesting history behind it.
Lying in the middle of Istanbul, Grand Bazaar was built in 1455 after the Ottoman empire beat Constantinople in a battle. It is not only renowned for the big scale but also for a long history lasting more than 500 years. In the past, this market was just a site for exchanging essentials. However, after hundreds of years have gone by, Grand Bazaar becomes popular with the number of 4000 stalls in rows. Especially, most of the owners here are males.
Once visiting this market, you will be attracted by thousands of colorful items. They are produced of good quality but do not cost you a lot of money. Travelers coming here can buy pretty gifts for their friends and family such as pottery, handbags, jewelry or silk. Thanks to its diversity, Grand Bazaar used to break the world's record by welcoming over 91 million tourists in 2014.
Turkish is the nationality of Santa Claus
Santa Claus, also known as Saint Nicholas, is a familiar character to everyone who always comes first when talking about Christmas. For a long time, there have been some rumors about where he is from. Some people believe that he was born in Finland while others think that he is from the North pole. Therefore, groups of explorers used to visit those areas to look for the truth.
However, the symbol of Christmas is not from either Findland or the North pole. In fact, his hometown is Patara, a place that is very far from the northernmost region. Patara lies in the Southeast of Lycian belonging to Turkey. On top of Saint Nicholas, this land is also the home country of other great men such as Saint Paul and the prophet Abraham.
Tasty dessert made from chicken
Turkey is an ideal destination for foodies who would like to try different cuisine. Once setting you a foot in this nation, you will have a chance to taste lots of specific dishes like doner kebab, kumpir, fish sandwiches, baklava, etc. Besides, there are numerous kinds of desserts that you must try on arrival here. For example, Sutlac, Lokum and Lokma are most travelers' favorites. However, the most impressive one is chicken breast pudding.
In Turkish, this strange dessert is called tavuk göğsü. It was first created during the age of the Ottoman empire. The ingredients consist of eggs, boiled chicken, milk and sugar combined together to give foodies healthy food. To make this dish, the cook has to take many steps from boiling chicken until it is a little well-done, smashing it with a fork, grounding chicken and dimming it into a bowl of water, leaving the chicken to be dry to making a layer of caramel for it. Lavuk göğsü is preferred by many visitors for its high nutrient value and good taste.
One of the largest seas preserving loggerhead turtles
Every year, Turkey attracts thousands of tourists from all over the world thanks to its amazing endless beaches. Covered by three enormous seas which are Aegea in the West, the Black Sea in the North and the Mediterranean in the South, it is not surprising that Turkey owns a number of beautiful shores. Among those, there is a special one that is not only a site for tourism but also a place for loggerhead sea turtles to live in.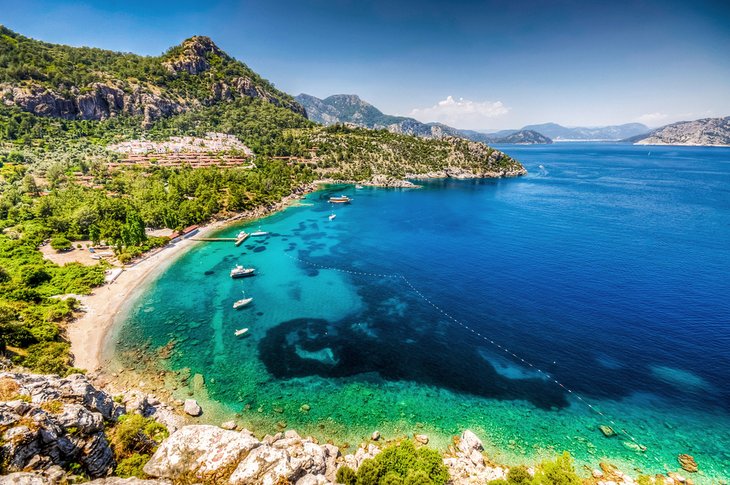 Iztuzu spreads a vast area with a 4.5-kilometer coastline near Dalyan. Of the suitable weather and position, it has been used as a preserving region for Caretta which are in danger of being extinct. At the beginning of May, plenty of this species appears to lay eggs on the white sand dunes. The process remains for around five months later when they stop giving birth to newbies.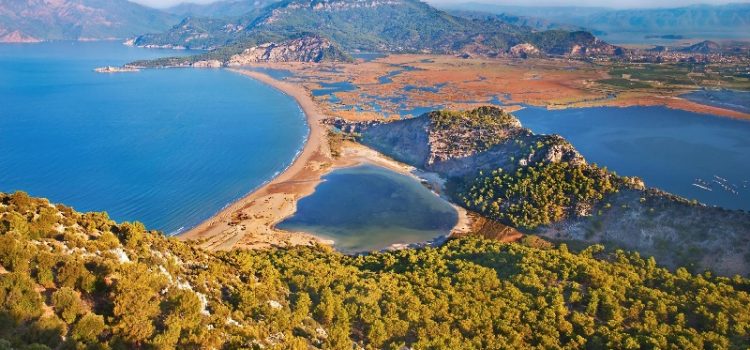 The country consumes a high amount of tea each year
Besides coffee, tea is one of the most favorite beverages in the land of doner kebabs. According to some documents, when Yemen was invaded at the end of the 19th century, people started growing tea to replace their cups of coffee in the morning. Then, it has become popular among drinkers ever since.
In Turkey, people usually hold a mug of tea in their hands while contemplating the sunrise after waking up. A small gulp of hot tea helps them relax and start a new day in a comfortable mood. In addition, tea also brings them benefits with hydrated carbon, lipids, vitamins and so on. Because of its high value in nourishment, Turkish people drink a huge amount of tea every year with an average of 3 kilograms for one person per year.
Amazing metro across two continents
Turkey is a country lying in the Eurasian area. Therefore, it is very difficult to go from this side to the other. Understanding that problem, the government began a project to build one metro which connects the two continents together. On 17/1/1875, Tünel was put into use for the first time. At present, it is still working to help people move easily from Karaköy to Beyoglu. Nonetheless, on 29/10/2013, Turkey had a new railway called "Marmaray" which lies across the Bosphorus strait.
To help you to discover interesting facts about Turkey. We provide Turkey e-Visa service to save you time.
Leave your information in the registration form below.