Cappadocia in Turkey – beautiful site of hot-air balloons!
Turkey, a nation well-known for lots of attractive landscapes including nice blue beaches, has been a hot destination for tourists all around the world. Recently, the number of travelers coming to this country during the holiday season has kept rising. People visit Cappadocia in Turkey not only to discover historical places but also to enjoy the cool water amid amazing nature.
Before coming to visit Cappadocia in Turkey. If you are a foreign citizen, you must apply for a Turkey E-Visa online and learn about the requirements for citizens of other country's visas to Turkey.
In addition, on arrival here, you will have a chance to contemplate a vast area of the city by standing on colorful hot-air balloons, especially in Cappadocia, which is a memorable experience you will never forget about this nice land.
Impressive terrain
Cappadocia is famous for its numerous enormous stones coming in different shapes. In the past, this area used to see many earthquakes and volcanoes occur. Therefore, the terrain here is unique with thousands of huge rocks around. After a long period of time, under weather conditions and other elements' effects, they all look like gigantic mushrooms which are grey. For that reason, this whole region is also known as Mushroom Valley.
Say "hello" to a new day
If you want to watch the sunrise and see how this city welcomes the dawn, you will have to get up very early in the morning. In April, the temperature may reach up to 10 Celsius degrees. However, it will be warmer when the sun gives its nice sunshine to the beautiful land. At noon, when the sun is at its peak, the weather may get hotter and you can put on your pretty clothes like shorts and dresses.
Cappadocia is 290 kilometers away from Ankara. In general, it belongs to Nevsehir located in the central part of Turkey. So as to get there, you can take a bus or rent a car if you go with a group of friends. When turning up, you will see hundreds of people gathering there to wait for the first moments of a new day.
An attractive site for tourism
With the impressive terrain, Cappadocia attracts plenty of visitors each year to show up and enjoy its beauty from a high distance. In 1980, the place was listed in CNN's list of the best seven destinations for traveling by hot-air balloons. Along with it on the list are some popular sites from Albuquerque, New Mexico, America, Luberon, France, etc. Moreover, Cappadocia officially became one of the world's natural heritages honored by UNESCO in 1985.
Get ready for the special tour
As flying with a hot-air balloon is quite dangerous, you have to read and sign in some papers before taking a tour. It is just to make sure that you will not blame the service because the rate of danger is kind of low.
Here, there are more than 20 brands that provide you with good quality balloons. Hence, you can easily rent one without having to line up in a long queue. The best time for taking this interesting sport is between March and December when the sky is blue, clear and there is not much wind. In winter, this place is also open for visitors with more than hundreds of people per day.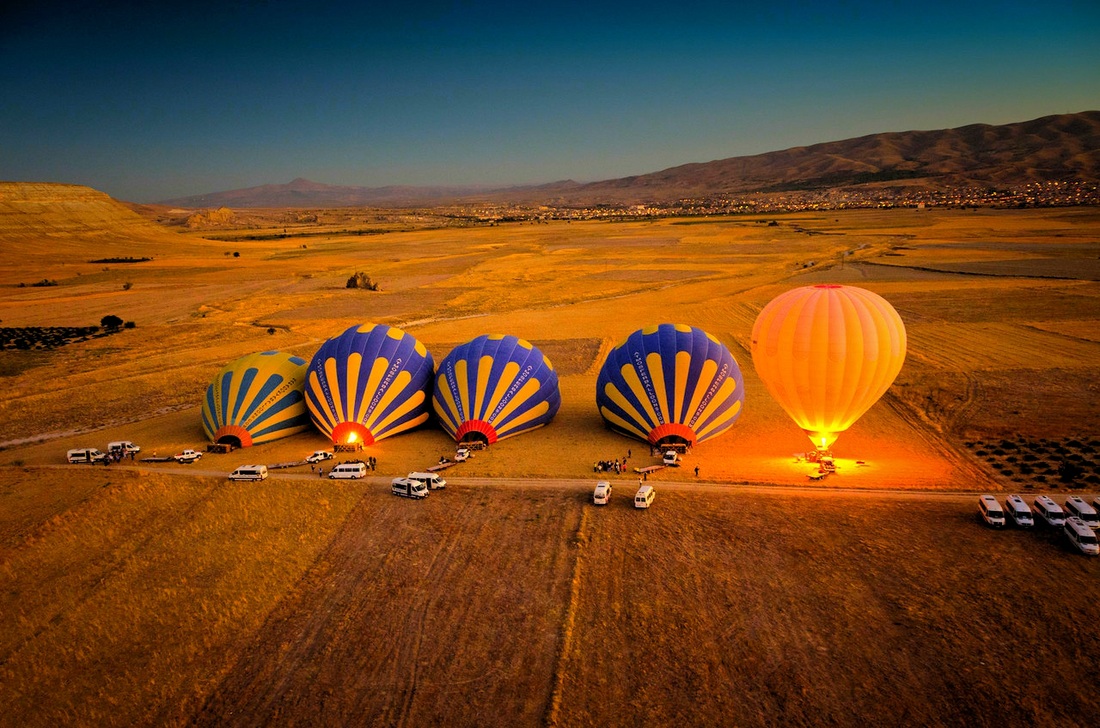 Before reaching Cappadocia, you should have a look at the weather forecast to see if it is suitable for a nice hot-air balloon tour. In case the temperature is below 28 Celsius degrees, you should have to wait for another nice day for safety reasons. If you miss checking the weather conditions, do not be so worried as there will be a warning flag to let you know the right time to fly.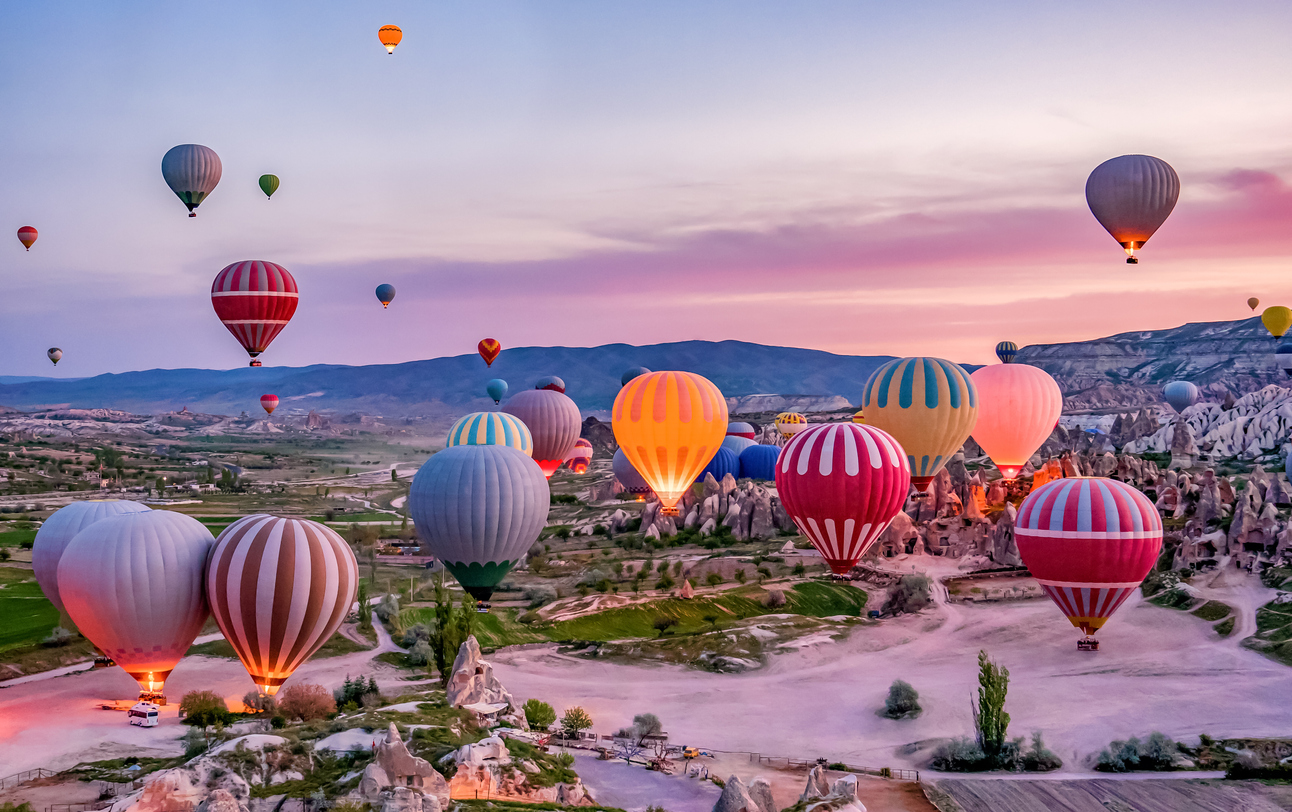 While taking a fight, you are not allowed to jump out of the balloon. To stay secure, you must follow the guidelines of instructors. For example, holding the balloon all the time and blending yourself when landing is the basic thing to remember.
Gorgeous view from a high distance
If you turn up at Cappadocia early in the morning, you can take the first fight leaving at around half-past five. There is a big fan that blows into the balloon to make it inflate and show attractive colors. Then, yellow blame is strongly burnt into it to start your discovery.
Standing in a big balloon flying around the area, you will find out that hundreds of giant mushroom stones below gradually turn into small rocks. As soon as you are far from the ground, you can feel the warm sunshine from the sun approaching you. But for this tour, you may never be that close to this yellow planet.
There is nothing more expected than chilling in a hot-air balloon and watching the sun slowly rise from behind huge stones. In addition, there is a yellow line of sunshine looking like the horizon seems to be endless far away. Indeed, it cannot deny that you only have such an impressive experience by taking a balloon flight in Anatolia.
The tour lasts for about one hour with a 2.5-kilometer route. During that period, you will be floating up in the air at a height of one hundred meters away from where you start. Once landing on the ground, you will receive a campaign medal as a certificate of fulfilling this challenging activity.
Little things to note down
As it will get colder when you fly high, please do not forget to bring a coat with you to keep yourself warm. Additionally, you should wear simple outfits to avoid confusing situations in case of strong wind.
Get ready for your flight by doing some exercises before taking it. This necessary step will help you easily get used to the sudden change in atmospheric pressure.
In order not to wait for a long time to buy a ticket, you had better book one online to save your time. Moreover, in this way, you can also save an amount of money as it is cheaper than buying at the site.
Although there are lots of tourists arriving in Cappadocia for their vacations, this place does not offer hot-air balloons on Turkish holidays. Therefore, you have to check if your trip is on those special days.
Besides outstanding scenery with various terrains and architecture built a long time ago, Turkey is also an ideal destination for travelers who want to try something new and challenging. Taking a trip to this land, you will learn a lot of things about interesting truths, history, enjoy your time on the beaches as well as give yourself a chance to discover the beauty of this nation from an impressive height.
To help you to visit Cappadocia in Turkey quickly. We provide Turkey e-Visa service to save you time.
Leave your information in the registration form below.