Blue Flag Beaches Amid Amazing Landscapes In Turkey
September 13,2022

50 views
If you want to spend your holiday on a nice blue-flagged beach or enjoy the beauty of nature and taste unique dishes, Turkey is one of the best choices for you. Being a country that connects two continents, Turkey possesses a lot of impressive blue beaches that visitors cannot forget once they have come. Should you be thinking about going to Turkey for a vacation but have no idea about where to go, do not hesitate to read the following lines for some recommendations!
Before coming to visit blue beaches amid amazing landscapes in Turkey, If you are a foreign citizen, you must apply for a Turkey E-Visa online and learn about the requirements for citizens of other countries' visas to Turkey.
Alacati
Coming to Turkey, you will have a chance to enjoy your holiday in this nice bay. Alacati has been renowned for its white sandbank and blue water, that's why there are more and more tourists coming here for a trip each year. This shore is always kept clean in order to give travelers the best experience.
On summer days, there is nothing more interesting than lying on the beach, looking at the attractive scenery around and having a cold drink. In addition, if you are a fan of extreme sports, you can go surfing here as the surface is suitable for this game. For the listed reasons, Alacati is a must-go destination that you should try.
If you are worried about where to stay, there are a number of resorts by the beach for you to pick from. However, to get your tip ready, you should go online and see if there are rooms available. Then you had the better book one so that you will have a place to stay on arrival.
Assos
Located amid well-known historical buildings, Assos is an attractive site for tourism that lots of visitors choose to come to. Possessing clear seawater and outstanding landscape nearby, it is one of the most popular destinations in Turkey.
If you wake up in the early morning, you can start a new day by walking along the seashore and enjoying the fresh air. Then you can sit down for a cup of your favorite drink and see the beauty of nature which is not easy to find in big cities. In the afternoon, there will be an amazing sunset at which the surface reflects the last shine of the day from the sun.
Besides, you will have an opportunity to taste fresh seafood in the local restaurants. There are various dishes that are cooked in a unique style for you to try. To find a restaurant with a reasonable price, you should look for it on the internet before coming to Turkey.
Thanks to the features above, Assos is a wonderful place that can help you escape from your daily busy life with its peace and beauty.
Altinkum
If Alacati is famous for its beautiful white sandbank, Altinkum is well-known for its yellow one. This nice beach is located at the southernmost of the peninsula, 123 kilometers away from Aydin and by the ancient Apollo temple.
Being in a nice location, Altinkum has suitable weather and stream for tourism. The weather is very nice here with cool winds coming from the beach. You can chill with your friends by taking a seat on the seashore looking at the impressive scenery, having a cold drink and chatting with each other. Having a holiday on the beach, you cannot just sit down and enjoy the landscape. You should have a swim in the afternoon to feel the coolness of the seawater and do some activities such as canoeing. Before it gets darker, you will have a chance to view a nice sunset.
Iztuzu
Iztuzu is also known as Turtle beach because this is a place to preserve loggerhead sea turtles. This beach possesses a 4.5-kilometer coastline and is located near Dalyan. Since 1988, Iztuzu has been used to protect Caretta caretta and has lately been open for tourism.
Viewing from satellites, Iztuzu looks like a colorful painting with green trees, brown mountains, blue sky and sea. The horizon seems to be endless and far away and the silence of the beach makes you feel peaceful.
Coming to Iztuzu, you will have a chance to integrate the daily life of local citizens. By experiencing, you can find out that it is much calmer and more relaxing in comparison with the pace of city life. Also, when walking along Iztuzu's seashore in the morning, you can hear the sounds of little waves and feel the specific atmosphere of the beach which is a bit wet and cool. Those activities, for sure, would be a nice start for your new day.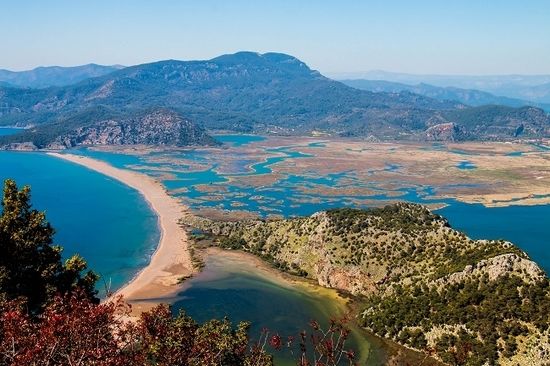 On the seashore, you can sunbathe and look at the beautiful sky. There are also a number of umbrellas for you to lie under if you want to hide from the sunshine while looking at people swimming in the sea. To make your journey perfect, you should spend some of your time enjoying the cool water of the sea.
Nearby the beach has some nice restaurants serving fresh seafood. To pick the best one for your journey, you should look for some reviews on the internet before entering.
Oludeniz
Oludeniz must be one of the first names to come up when talking about beaches in Turkey. Owning an unlimited coastline, Oludeniz is impressive to tourists by its blue water spreading a vast area. Far away, there is the color green of trees combined with the blue sky, which seems that there is no space between them.
Turning up in Oludeniz, you can experience some kinds of water sports such as flying kites, surfing, swimming or diving. Thanks to the outstanding beauty of nature, this coast attracts thousands of internal and external travelers to come each year.
If you want to try something challenging, you can do skydiving in Oludeniz. At a high distance, you will be able to see how great nature is. Although this kind of sport might be scary, it is interesting to try if you are brave enough to view the whole amazing area.
Turkey is a nice country to have a trip to. However, for the best experience during your journey, you should read for some advice on the internet to get everything ready. It is good to go on a tour sometime to release all of the stress you have in your daily life.
To help you to visit blue beaches amid amazing landscapes in Turkey, We provide Turkey e-Visa service to save you time.
Leave your information in the registration form below.