Turkish cultural traits you may not know
September 13,2022

5 views
Ottoman miniature | © British Library Images Online/Wikimedia Commons
Not only having beautiful nature or great works, but Turkish culture also contains a multitude of attractions for you to explore.
As a country located on two continents of Asia and Europe, Turkish culture possesses unique and impressive features. Culture appears in all aspects of life, intersecting many origins such as Anatolia, Europe, Ottoman,… and is highly valued by the people of this country.
1. Customs in daily life
It is an interesting country, in everyday life the Turkish possess many unique customs such as a warm welcome from the owners of the household. The people of this country can invite anyone to come home and dine. Another example of the Turkish custom of hospitality is a long farewell. Visiting someone's house in this country, the house owner not only offers you a lot of food but also doesn't let the guest leave quickly.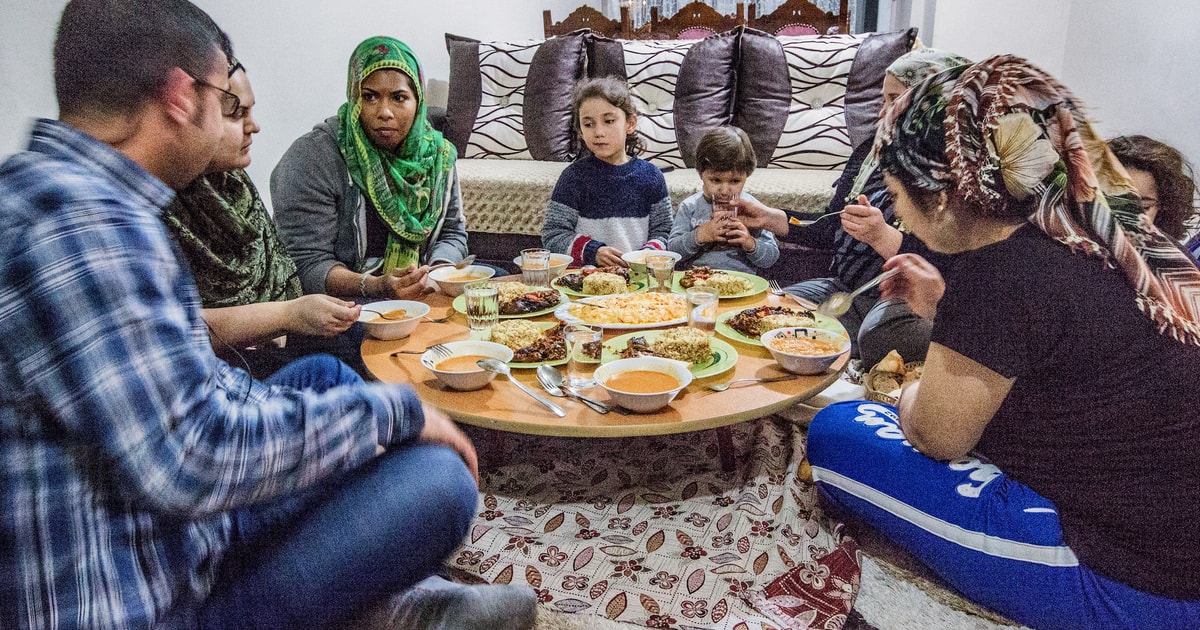 Dinner with a local family in Istanbul                                                                                                 Source: Internet
Visitors coming to the house are considered a great honor, so it will take long from the time you start standing up until you go out. Because the household owner will still embrace you deeply, telling you to be careful or see you next time,…
2. Culture and Arts
The people of Turkey possess special and diverse folk dances. Each place has a different color and characteristics, expressing typical Turkish culture as well as the spiritual life in that region.
Halay is one of the most well-known folk dances                                                      Source: lucidpedia.com/halay/
It can be named to some famous dance features such as
Teke
– of the Western Mediterranean,
Horon
– of the Middle and East Sea, or
Hora
dance in East Thrace,… Not only at the festival but on the road or in bars you can also see these effervescent dances.
       Horon dance troupe.                                                                            Photo credit: Atalay KARACAORENLI
       A traditional Hora playing in North Macedonia                                                                Source: Wikipedia
One of the Turkish cultural features known to many tourists is the famous belly dance art in the world. The dancers dressed in fiery costumes and conducted a great performance.
3. About media
The media industry in Turkey is considered to be extremely active with a large media and television system from central to local levels. Besides, the internet is also developed, the dramas and movies of this country have gone out of the national territory and are loved all over the world.
Turkish actor and movie poster                                                                                                       Source: Internet
Turkish art and culture are not only a mean to broaden the image of the country and its people. But the 7th art is also considered an industry that brings huge profits for the Turkish.
4. Traditional Sauna Culture
You may be surprised to learn that the sauna is also one of the great long-standing traditions and rituals of this country. In the past, Turkish saunas were considered an important item in mosques. Say, the sauna areas are separated to build in more ancient style and diagonal. Always crowded and divided into areas for men and women. The sauna, scrubbed by an old Turkish, is a combination of ordinary baths with steam baths and even kumquat.
Turkish sauna in Istanbul                                                                                              Source:www.turkishbaths.org
Bathing is for many people only considered a normal activity. But here it has become a very unique Turkish culture, attracting many tourists to experience. This culture is acknowledged as a heritage that needs to be preserved and developed.
5. Culinary culture in life
Before the whole world war I took place, the Turkish were used to eating foods imported from other countries. For the time being, the foods of this country are still processed mainly from Western European countries.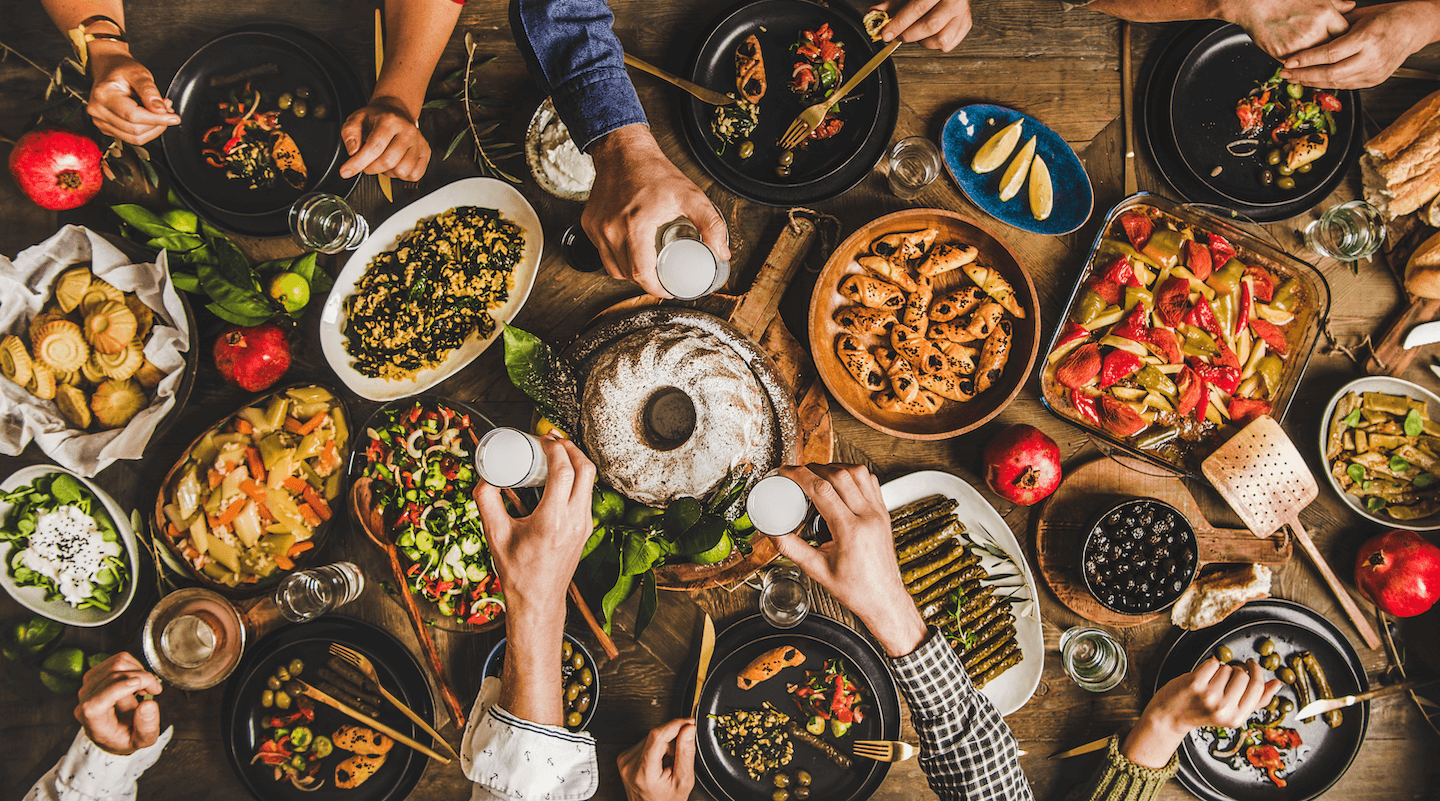 A table of diverse delicious food                                                                                                        Source: Internet
For Turkish culture, the cuisine also plays a very important role. The typical breakfast of the people here is fresh vegetables with bread, a little cheese, and a cup of tea.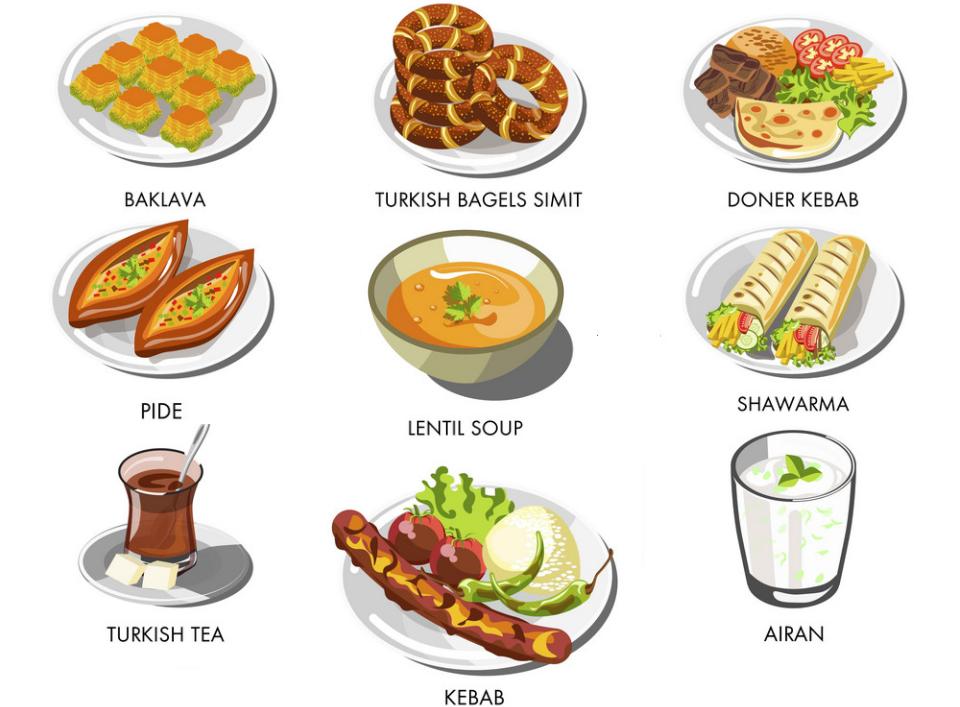 Typical cuisine that you may accidentally see on the street of Turkey                                         Source: Internet 
An attractive dish of the Turkish also very famous in the world is the barbecue sandwiches sold in the trolleys. Also, the people of this country love sweet marshmallows or chestnut cake, pine honey,...